People in Harbour of Hope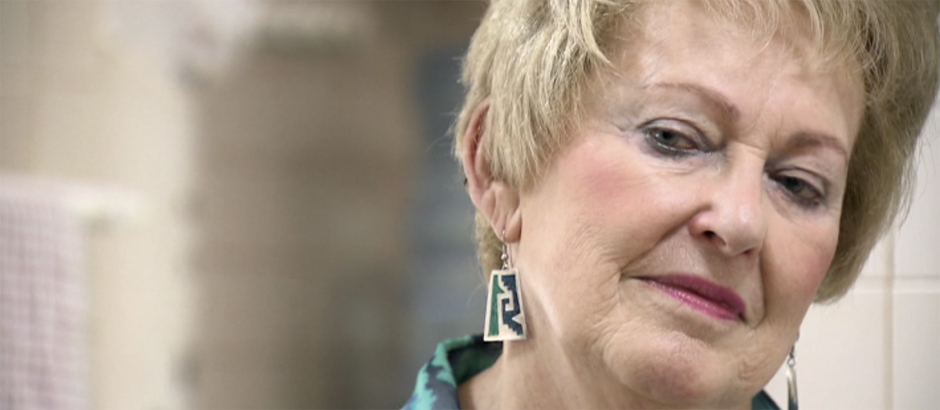 Irene Krausz-Fainman, born in Holland, 1935. Now living in Johannesburg, South Africa.
Irene is identified in the archive films together with her mother Rachel arriving in Malmö on the 28th of April 1945. She is standing on the quay in the harbour smiling at the film photographer. Later in the same archive footage, she and her mother stand naked in the sanitation tent, together with a large group of other women.
Coming to Malmö is a defining moment in Irene's life. For the first time in years, she experiences humanity and friendliness. Irene remembers how she in Sweden was able to be a child again and to run around in the museum yard, playing with the caretaker's daughter. Irene's mother never talked to Irene about their common experiences in the concentration camps. "What you don't remember, you don't remember" she said. During the years in the camps she used to cover Irene's eyes, trying to protect her from seeing the horrors. "Irene, you have to think about other things. Imagine you're playing in a field of flowers with other children".
The strategy of ignoring the experiences was for many survivors an important part in trying to build a new life, after the horror finally had ended. The moment of liberation is also where the silence begins. Irene has struggled most of her life with handling the memories from the camps. Eventually, after hypnosis and therapy, she got rid of nightmares that until then had kept coming for 35 years. Irene's mother died 91 years old, still haunted by the same nightmares every single night.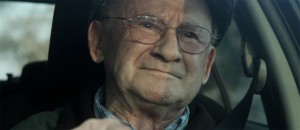 Joe Rozenberg, born in Poland in 1925. Now living in Minneapolis, USA
Joe grew up in Lodz in Poland, where his family in April, 1940 was forced to move to the ghetto. Here around 300.000 Jews lived under unbelievable circumstances. In 1942 the Nazis took his mother and brother, but Joe was able to survive. So did his father and his four sisters until 1944, when all of them were put on a train taking them to Auschwitz. Here they were immediately separated. His sisters in one queue, Joe and his dad in the other one. Soon Joe was also separated from his father, and never saw him again. Joe was taken to Stocken by Hannover and then ended in the small camp Ahlem, where the slave-like circumstances killed people every day. In the beginning of April 1945, Joe was so weak and ill that he could not walk. When the Nazi guards abandoned the camp, they just left the sick prisoners behind to die. Luckily, very soon the Americans came and rescued the Ahlem prisoners.
After recovering, Joe started looking for survivors from his family. After searching and hitchhiking through western Germany, he found his sister in a hospital in Bergen-Belsen. And when his sister got the opportunity to go to Sweden with the help of the United Nations Relief and Rehabilitation Administration, UNRRA, he travelled with her. On a ship leaving Lübeck packed with survivors in very bad shape, they came to Malmö on the 25th of July. "It was a shock seeing Malmö, it was like coming to Mars. Lights in the streets, undamaged buildings, a functioning society with generous people who treated us as gently as one would treat babies", Joe remembers.
Later in 1945, Joe is transferred to the village Mölle by-the-sea in the south of Sweden. One day a group of young women – also survivors – arrives. The 15 year old Rajzla (later Rose) immediatly catches his attention and he falls in love. At their first meeting Rajzla tells him: "Mr Rosenberg, I saw you on the boat from Germany. We came together to Sweden". Joe and Rajzla become a couple and got married in Sweden in 1949. Ten years later they emigrated to Minneapolis, USA where they stayed together and build a family. In an old age Rose got diagnosed with Alzheimer's and as Rose's memory faded away, the couple's common love story from Sweden 1945 did too. Joe visited her every day in the nursing home still seeing some of the scars from the camps. A female SS guard hit Rose severly over the eye once, and her eye lid was damaged. Even as she closed her eyes, one eye stayed open. Rose wanted to perform surgery for this, but Joe said no. "I still think she's beautiful. I have always kissed her eye. It reminds us of the war and being liberated from it". Rose passed away in 2010.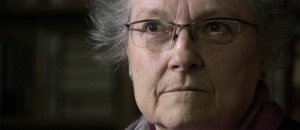 Ewa Kabacinska-Jansson, born in Ravensbrück in 1945. Now living in Ystad, Sweden
Ewa recognizes her mother Joanna in the archive film footage of prisoners arriving to Malmö. Joanna looks thin and exhausted, and a Red Cross nurse is helping her and preventing her from falling. In her arms, Joanna carries a big blanket. Wrapped inside lies infant baby Ewa, no more than three weeks old. "My mother told me her weight was just 39 kilos. She said that we wouldn't have lasted another week in Ravensbrück".
Ewa was born at the beginning of April in the concentration camp Ravensbrück. At that point the attitude of the guards had changed, because everyone knew that the Germans would lose the war. Ewa's mother was allowed to give birth in the camp hospital. After the birth, Ewa's mother became unconscious. She recovered just enough to be able to get on the Red Cross buses when the chance came at the end of April.
As the White Buses were bombed by allied airplanes, the passengers in Ewa and her mother's bus had to take cover in the woods for one night. In the chaos, baby Ewa was lost and her weak mother had to creep around in the dark in order to find her child.
After arriving in Malmö, Joanna and little Ewa get transferred to the children's hospital in Landskrona, 40 km outside of Malmö. The baby Ewa is in bad shape and after a while gets transferred to yet another hospital, this time in Stockholm. It takes almost three years until she unites with her mother again. By then Joanna has found a man, another survivor who ended up in Sweden, also from Poland, just like herself. As Ewa grows up in Västerås, Sweden, she slowly starts to ask questions about her background. At the age of twelve she realizes that the dad in her family is not her biological father. She tries to ask her mother, who refuses to talk about it. One evening as Ewa is standing in front of a mirror combing her hair, Joanna suddenly comes up from behind and says: "Your father's name was Josef, he was a policeman. And he was very kind". That's all she says.
Many, many times Ewa tried to sit down with her mother to ask her about the father. But her mum refused to talk about it, sometimes she even started to shake and cry. In 1989 Joanna was taken ill. She was very sick, and Ewa knew that her mother would not last much longer. Ewa assumed that she would get the full story of her biological father on her mother's death bed. But the story never came out. It was too hard for her mother. She couldn't even tell Ewa the full name of her father. Ewa has never given up on trying to find out the whole truth about her biological father. After her mother died, Ewa and her Swedish husband Leif continued trying to find facts about her father. They contacted the international Red Cross offices and three years later got to know his full name. Today Ewa even has aphoto of her father. She continues to search for facts and finds out more about him, trying to build a more complete picture of her father's life.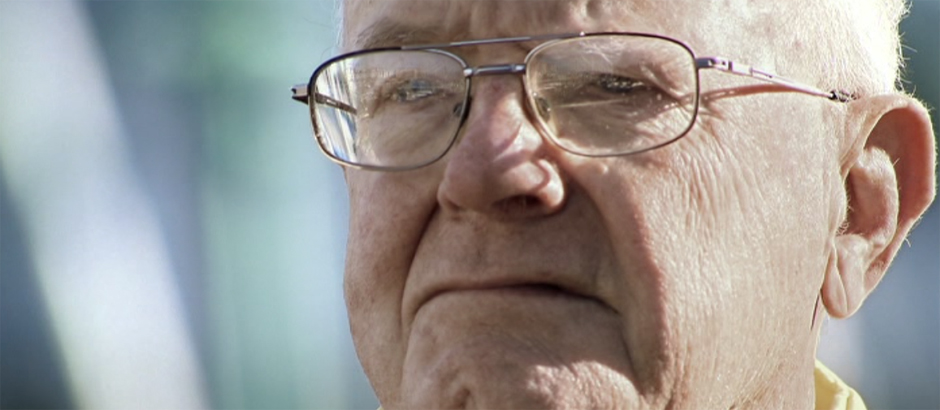 Stig Kinnhagen, born in Malmö in 1930. Swedish Red Cross volunteer in 1945. Now living in Lomma close to Malmö, Sweden
Stig was in many ways a typical Swedish boy when the war broke out in 1939. He was fascinated by the war in the way a boy in a neutral country could be, protected from the cruelties of it. He and his friend acted soldiers and played around with wooden rifles. Every Monday he went to the cinema Spegeln to watch the Nazi propaganda films, screened before the main features. "I was fascinated by the uniforms, the soldiers and the
weapons. Like many boys before me. And many of the Swedes felt a cultural connection to the Germans since the beginning of the century. Most Swedes were very afraid of the Soviet Union, since their attack on Finland in 1939. The Nazis were considered a guarantee against the Communists".
But as the war went on, many Swedes changed. At the end of the war, springtime 1945, bit by bit the truth about the concentration camps and war crimes became clear. When the concentration camp survivors started arriving in Malmö, Stig volunteered to help.
Stig was working at the harbour where all the refugee ships arrived, everyday seeing the worn out and sick survivors coming. Later he was a guard at quarantines in schools in Malmö and in nearby Lund. Today he's proud of having been part of the massive mobilization in Malmö. "We all wondered what these people had gone through. It was a shock for us. But I was a boy and didn't fully grasp what had happened. These events probably affect me more today". Today Stig is retired, but still a very active person. A couple of years ago he got involved in an aid organization bringing clothes, furniture and money to poor people in the south of Lithuania.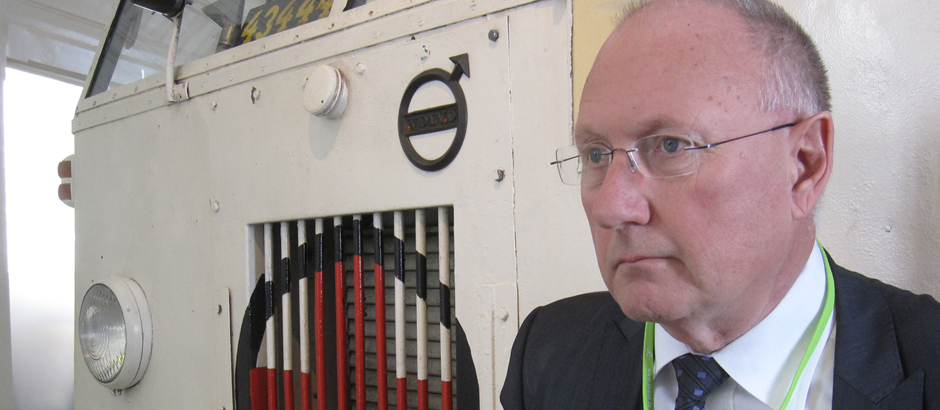 Bo Fröberg, born in Malmö in 1945. Still living in Malmö, Sweden
Bo Fröberg was just a new born baby when his mother started working for the Red Cross. She was one of many who took care of survivors arriving by ship to Malmö in the spring of 1945. On the 11th of May the ship Homberg reached Malmö harbour with camp survivors in very bad shape, many dying and many very sick. Bo's mother Gertrud was one of the Red Cross nurses who was there to evacuate the ship and work with the sanitation of these people. The Malmö citizens called the Homberg a "ghost ship". That was probably where Bo's mother was infected by typhoid. A week later she poses with little baby Bo and her husband for an idyllic photo, showing them enjoying a weekend off in the countryside. It's a rare photo of a happy family. One week later she is transferred to a hospital in Malmö. In the beginning of June she is dead. "My father never talked to me about what happened to my mother. All my life I've been wondering about what cause my mother died for. The events in Malmö with the survivors were not known to me when I grew up".
Although Bo was just a baby when his mother died, the story of his mother is very emotional to him. He picks up a letter that his father passed on to him, and shows us. "This letter was written by a group of female survivors from France and Belgium. They were placed at the Södervärn school in Malmö. They gave the letter to dad after my mother's death". As he starts reading, he cries. "She died for the highest of human causes, trying to help people who suffered", the survivors write in the letter. Today Bo Fröberg is retired and has started working for the Red Cross in Malmö as a volunteer.