Story
Harbour of Hope is a heartbreaking, but life-affirming documentary about the beyond belief life stories of Irene Krausz-Fainman, Ewa Kabacinska Jansson and Joe Rozenberg. In 1945 they were among the 30.000 survivors that were rescued from German concentration camps and brought to the peaceful harbour town of Malmö, Sweden. There life began again.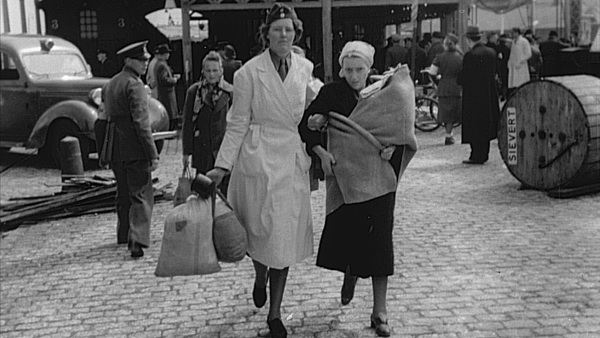 April 28, 1945. Newborn Ewa and her mother arrive from Ravensbrück.
Coming to Sweden in 1945 is a defining moment in the life's of Irene, Ewa and Joe. In Harbour of Hope they reveal their stories – from the complicated moments of freedom to the mysteries and questions still haunting them today.
The film is based on a wealth of unique archive footage. In Swedish news reels from April 1945 the 10 year-old Jewish girl Irene is seen taking her first shaky steps in freedom and new-born Ewa is being carried on to the harbour by her Polish mother.
Irene was 8 years when she and her mother arrived to the harbour of Malmö. "My mother used to cover my eyes in the camp, and after the war she refused to talk about what happened", says Irene, who today lives in Johannesburg, South Africa.
Ewa was born in the Ravensbrück camp. Her Polish mother had become pregnant just before the Warsaw uprising in 1944. "Had we spent one more week in the camp me and my mother would not have made it". "The big question in my life has always been: Who is my father?", says Ewa, who lives in Ystad, Sweden.
Joe came from a Jewish family in Lodz, Poland. When he arrived in Malmö he was a sad and angry young man who had lost almost everyone in his big family. In Sweden he became friend with the 15 year old Red Cross volunteer Stig Kinnhagen, a meeting that forever changed Joe's life. "Stig invited me to have a dinner in his home. Seeing a normal family like his made me dedicate my life to building a new family", says Joe, who today lives in Minneapolis, USA.
Harbour of Hope is a film about people dealing with unimaginable war memories and how a helping hand makes it possible to move on. It's a moving homage to the humanism and unsung heroism that occurred throughout the darkest chapter in Europe's history.
Here you can read more about the Harbour of Hope heroes, portrayed in the film.
It was the Red Cross mission labelled The White Busses, which brought the survivors from the concentration camps to Malmö. You will find further information on this mission in our section with material from the research or in the section with background information. If you want to further explore the subjects relating to Harbour of Hope, please see our section with related links.